Home
Alas, the best moments have an end. Our Festival mines en choirs 2019 is now complete. You will be able to relive it very soon in our blog on this site.
And long live the Festival 2020.
It will always be held in Aumetz (Moselle, France) and around
24, 25 and 26 April 2020.
Registrations are open.
The whole team is already ready to welcome you as amicable as possible.
We are at your disposal, do not hesitate to contact us for any information.
And again a big thank you to the choirs present this year for their talent, their kindness and everything they have made us discover.
Carpe Vocalis
"We are a mixed choir founded at Skene Lasarett (Kinna hospital, Sweden). We organize our own representations and carry out different types of vocal services. For example, birthdays, inaugurations, etc. We have a very varied repertoire that suits most entertainment opportunities.
Our choir leader is Magnus Ekman, who has many years of experience as a musician and singing teacher."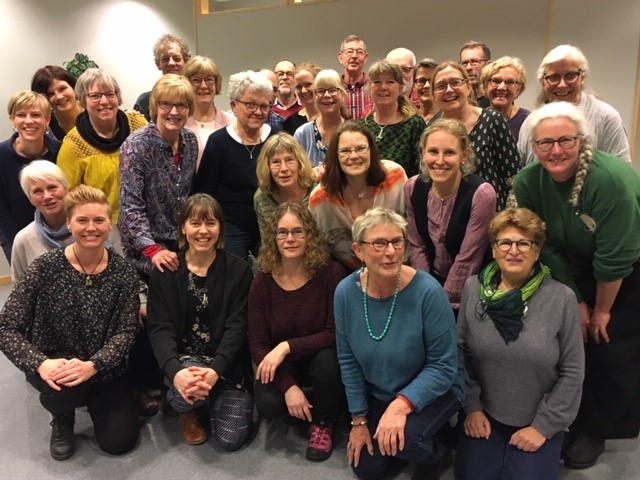 Kvartet Soncek
The Soncek Quartet was created in 1992. The group grew to become Sextet and then came back to its original configuration, the Quartet.
The emergence of the Soncek Quartet is linked to the love for the music of one of the best Slovenian composers, Rudija Bardorferja whose songs composed most of their repertoire which they then extended by a large work, to the whole song Slovenian and also foreign.
The Soncek Quartet tries to answer all the invitations. In addition to the services in the cities of Pivka and Postojna, he sings throughout Slovenia and abroad, in the United States, Scotland, Argentina, or Uruguay.
Oktet Suha
Born in 1981, the Oktet Suha is from Neuhaus/Suha (Austria). The band revives old, almost forgotten Carinthian songs and is enriched by new songs and interpretations. It has occurred more than 1400 times in Austria and throughout Europe, as well as in the United States, Australia, Ukraine, Argentina and Canada, television and radio worldwide. He has published 12 CDs and is the main organizer of the annual vocal Festival Cross Boarder Suha. He received the European Prize for folk and art and the silver price of the Slovenian Republic. www.oktet-suha.at
Art Director: Prof. Francka Šenk
Vox Femina
Vox Femina, a vocal ensemble with equal voice, was born in 2012. The members of the group, long-time singers, all live in or near Metz. Accompanied by the piano by Claire Schaff, accompanying pianist, and carried by a desire of quality in the interpretation, the respect of the style, the correctness, the homogeneity of the voices, the singers enjoy interpreting pieces of eras and origins and share their emotions with their audiences, as indicated by their logo: "voices of women, ways of the heart".
Barytenbas
The BARYTENBAS men's choir was founded on 21 may 2013 by a few members of the mixed vocal group crescendo with Alain Dalstein in his direction.
Composed of 14 choristes, its repertoire is varied ranging from contemporary French song to negro-spiritual.
He released his first CD in 2017, a 12-title CD titled " Jusqu'à l'ivresse".
Les Voix de l'Est
The men's choir "Les Voix de l'Est" was founded in 2014 in the Association "Mines en choeurs".
He interprets world songs, traditional and popular, in Slovenian, Croatian, Dalmatian, Russian, Italian, Sardinian, Sicilian, English, Gaelic, Basque, Cajun & French (a little bit).
He gives a dozen concerts a year, in Lorraine, of course, but also elsewhere in France (Burgundy, Vienna, Cantal, North, Basque country) and in Europe (Ireland, Scotland, Slovenia, Croatia, Italy, Luxembourg, Belgium, Switzerland).