International choral festival, Aumetz, Lorraine, France
Introducing our festival
Located in an district long marked by the exploitation of iron mines, we want a festival above all popular while highlighting the quality of the choirs.
Long affected by the labour immigration from which most members of our association come, we also want it international.
The choirs that, since 2014, have made us happy to participate, perfectly reflect this dual will. They're listed here.
Finally, we want it warm and friendly. Every effort is made to ensure that everyone has a good weekend, including through the discovery program of our region.
And from the beginning, the Mines en Choeurs festival has always been particularly appreciated by the participants whom, for many, we have been able to meet in their own country.
2021 festival cancelled
As in 2020, the french government measures dictated by the unfortunate spread of coronavirus led us, greatly disappointed but without hesitation, to cancel the 2021 festival.
We hope thant the seven choirs that had registered for 2020 and who should have made it an excellent vintage will join us in 2022. You can always find their presentation below.
This 2022 festival will still be held in Aumetz (Moselle, France) and surrounding areas
April 22, 23 and 24, 2022.
For as much information as possible, you can check out our program, read the rules, our rates and download the registration form.
Nevertheless, we would like 2021 not to be another sad year. That is why, if the conditions permit, we plan to hold a festival from 19 to 21 November. Given the difficulties of international travel, it would be open to choirs from the greater region and well provided in concerts on the Pays-Haut.
Registrations are now open for 2021 and 2022.
The whole team is already ready to welcome you as friendly as possible.
We are at your disposal, do not hesitate to contact us by mail or by call for any information.
Amici della Montagna
"Through its commitment, its faith in what it sings, the AMICI della Montagna choir has been able to create its own style. We have been for many years forging compositions by Bepi de Marzi, our great friend. We evoke faith, the hope of the poor, respect for memory, the suffering of nature and the joy of living."
Singing in a choir means sharing difficulty and passions. It means coming together with others, reconciling different voices, giving time, build friendships. All this is not easy, yet the Amici della Montagna Choir has been following this path for forty years.
This choir was born in Origgio in 1979 from the approach of friends who created an opportunity to meet and study with the aim of cultivating a common and great passion for singing. Many years have passed since the founding of the choir : years of work, sacrifice, satisfaction, recognition, and many concerts.
You can find them on their website.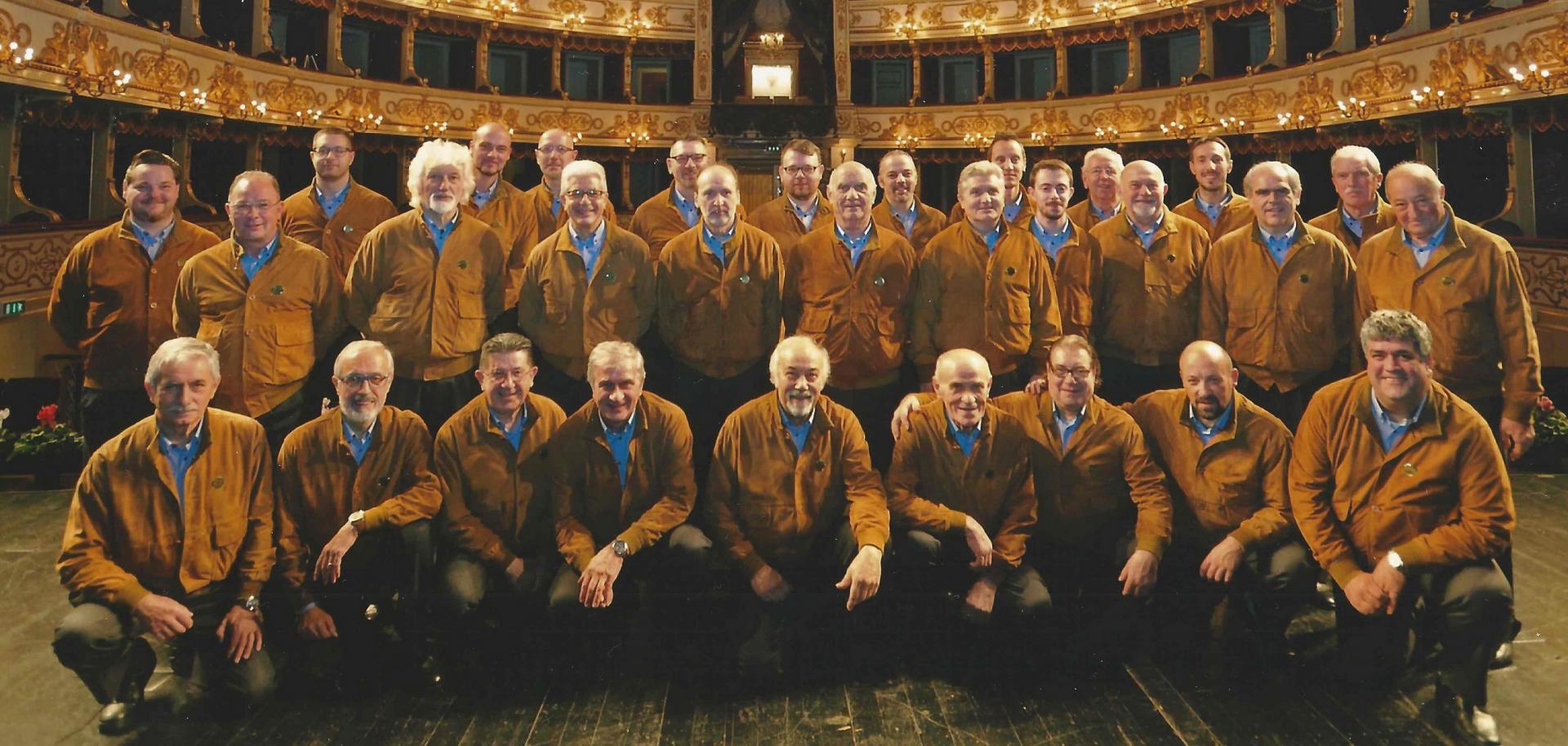 PEVSKA SKUPINA STUDENEC
The group was founded in 2002. Started as a duo, he gradually became a nonet. It is composed of experienced singers, who appreciate the harmony of their singing touches the hearts of the people who listen to it. The band has no competitive ambition, which nevertheless does not prevent them from doing everything to sing in high quality. While they perform songs of different origins, they prefer popular songs.
They have sung in many Slovenian cities and European countries. The band took the name of an ancient source of Pivka that withered for years and which, thanks to the singers and the local community, regained a neat image. Leader: Irena Rep.
You can find them on their website.
Vaški pevci iz Šentruperta
Our group is part of the cultural society Mavrica Šentrupert. We've been singing together for 15 years. The group consists of nine singers. Through our weekly rehearsals, we try to bring popular songs to the public with the best possible quality, especially for young people, so that these songs also know future generations.
Our concerts take place in our home community and in various places in Slovenia where singing friends invite us. It is a great honour for us to be able to participate in the Aumetz festival, where we will also be able to present to the French public a part of the Slovenian singing culture.
You can find them on YouTube.
Louth Hospital Choir
The Louth Hospital Choir was formed almost 3 years ago when staff from the 2 hospitals in our county or region came together to sing for fun and pleasure. Nurses, doctors, administrative staff, nursing assistants, physiotherapists... all work together in the choir to make music that lifts and calms the spirits.
The choir has performed at festivals, concerts, memorial services and parties. This is their first trip abroad and they are very happy to participate in this festival.
The music director is Irene Barr, a nurse at Dundalk Hospital who has worked in music education for 20 years.
Vox Femina
Vox Femina, a vocal ensemble with equal voice, was born in 2012. The members of the group, long-time singers, all live in or near Metz. Accompanied by the piano by Claire Schaff, accompanying pianist, and carried by a desire of quality in the interpretation, the respect of the style, the correctness, the homogeneity of the voices, the singers enjoy interpreting pieces of eras and origins and share their emotions with their audiences, as indicated by their logo: "voices of women, ways of the heart".
You can find them on their website.
Equinoxe
Equinoxe, born in 1996, is a group of 28 singers. His varied repertoire scans the high standards of pop and variety. Famous artists, well-known songs and lesser-known songs, musicals and movie tunes.
He performs for one-off concerts or at local and national festivals, which has already allowed him to sing with many renowned artists (Cabrel, Souchon, Aznavour, Voulzy, Mitchell, Chédid...), to participate in variety shows and even to record with greats of song and blues (album "Chansons pour les pieds" by J.J. Goldman in 2001, album "Prises et reprises" by Michael Jones in 2004).
You can find them on YouTube.
Les Voix de l'Est
The men's choir "Les Voix de l'Est" was founded in 2014 in the Association "Mines en choeurs".
He interprets world songs, traditional and popular, in Slovenian, Croatian, Dalmatian, Russian, Italian, Sardinian, Sicilian, English, Gaelic, Basque, Cajun & French (a little bit).
He gives a dozen concerts a year, in Lorraine, of course, but also elsewhere in France (Burgundy, Vienna, Cantal, North, Basque country) and in Europe (Ireland, Scotland, Slovenia, Croatia, Italy, Luxembourg, Belgium, Switzerland).
You can find them on their website.